I recently conducted a survey about how people use Discord in an effort to improve my own community. In the survey I asked 8 primary questions:
How did you first learn about Discord?
How many servers are you currently a member of?
What do you use Discord for?
How often do you use Discord?
What compels you to join a server?
What compels you to be active in a server?
What discourages or prevents you from being active in a server? (including muting or leaving a server)
What does your ideal Discord community look like?
Let's dive in with some pretty pictures! 🙌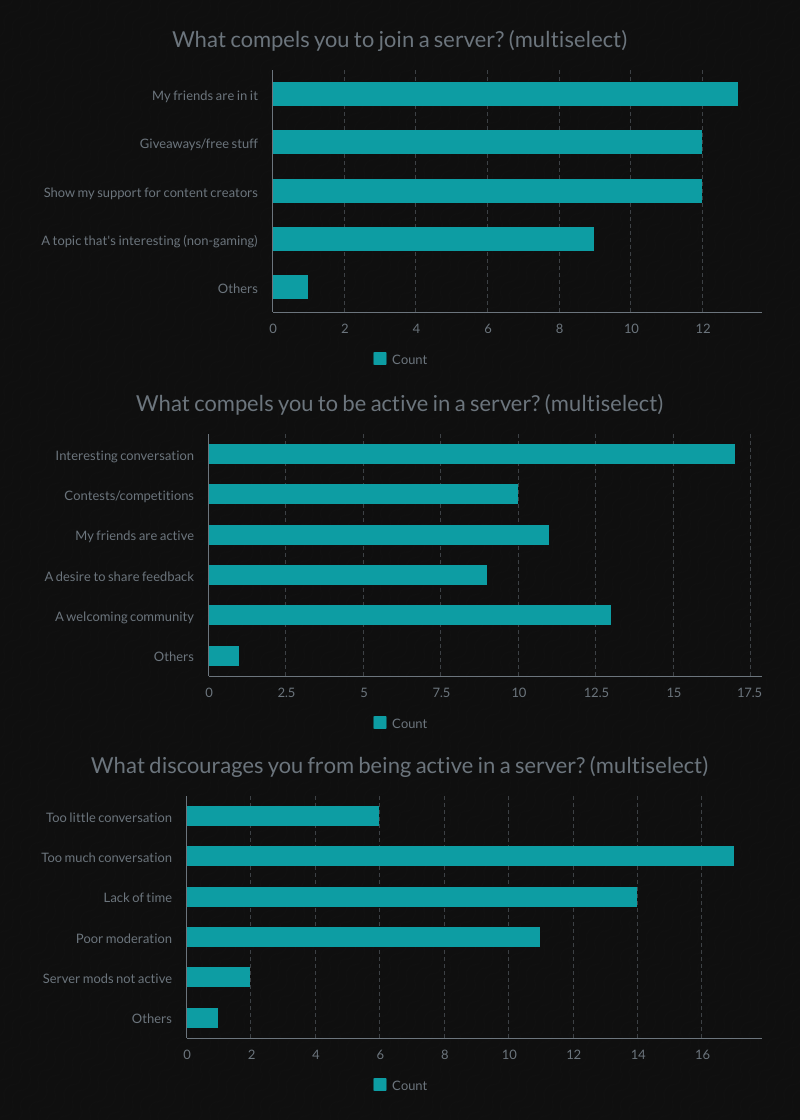 Analysis of the Results
Right off the bat, some of the findings were exactly what I was expecting: most users join Discord, and specific communities, because of a friend. Also not surprisingly, the average user is in many communities (more than 10), and as a result, cites too much conversation as being the main reason for not participating in a community. This would suggest to me that the typical user is looking for:
A server that their friends are in
Smaller servers where they can keep up and actively participate without getting overwhelmed
Servers with contests/competitions and giveaways
You'll notice that I left off the responses for "What does your ideal Discord community look like?". This was a free-form question with a wide range of responses, but suffice to say, several of the answers backed up the above analysis.
I also observed a specific type of user in the data: "the silent type". 🤐 i.e. Discord users who are in communities, viewing content, but not actively engaging. Unfortunately, Discord doesn't offer any visibility into this (yet), so I can't say how many users like this are in the Cosmocat server.
Key Takeaways
So what am I going to do with these findings? How am I going to apply them to the Cosmocat Discord server? I would say my top three takeaways are:
Word of mouth trumps everything: find ways to have existing members bring their friends to the server (a referral bonus of sorts?)
Run more contests, competitions and giveaways (although I'd say in some cases the engagement wasn't high enough to really justify this)
Find ways to engage the "silent type". They may not feel like chatting, but perhaps I can encourage reactions as a way of participating.
Is there something you're seeing in the results that I'm not? Is there something you'd like to see in the Cosmocat Discord that I didn't cover? Just let me know, preferably via Discord! 😉